Custom solutions, provided by itsme ELEKTRES
Codesol relies on itsme ELEKTRES for the creation of its new large-scale storage tank lifting system
Often, talking about custom solutions means talking about innovation. In these cases, there is a specific need that requires a new development or the adaptation of solutions already out there. It is necessary to study the requirements in depth in order to provide the most efficient solution.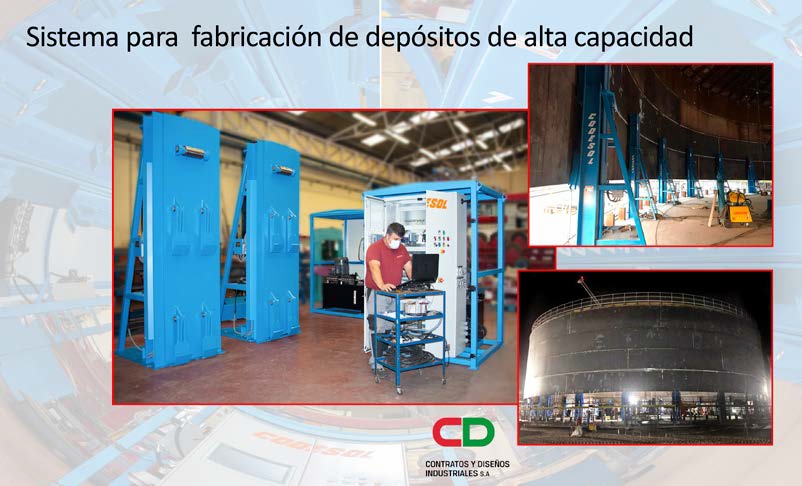 Codesol is a specialised company that offers full-service solutions for your welding needs. Founded in 1979, it has branches in different parts of the country. Its clients come from various sectors, such as the food and aeronautical industries.
Codesol is known for the advice it offers customers to help them boost their productivity. For this purpose, it has an advanced engineering department dedicated to the manufacture of automatic welding systems, according to the specific needs of the client. For one of its most recent projects, it enlisted the help of itsme ELEKTRES. 
Large-scale storage tank lifting system
Due to their dimensions, large-scale storage tanks or containers, such as those that can be found in an oil refinery or other industries, are usually built at the same site where they will be installed. Several welders are usually involved, who are responsible for joining the plates or rings that will make up the final structure. There are several ways to do this. One of them involves the use of a mobile crane that is placed inside the tank to install the plates. The downside is that the crane must be subsequently removed from the inside and a cover for the tank must then be placed onto the tank. Another option is to lift the structure from the base, so that the cover is built first and rings are added underneath. This was the request that Codesol received from one of its clients. 
In this case, the tanks had a diameter of about 50 meters, and could weigh as much as 1000 tons. According to Miguel Sánchez, automation and robotics technician at Codesol, they were very clear about what they wanted and, to make it happen, they relied on itsme ELEKTRES, which had been their provider of electrical supplies for some time. 

 
Different stations controlled by a single PLC
The solution, realised in collaboration with itsme ELEKTRES, consists in the communication with 10 lift stations that are mounted onsite, along the perimeter of the tank to be lifted. Each one is made up of a hydraulic cylinder, an induction motor,  a micro limit switch, emergency stop button, a hydraulic solenoid valve for lift control and a cylinder fall-prevention solenoid valve, as well as an encoder for calibrating the lift path, thus allowing for all lifts to be adjusted to the same position at the same time.
These 10 lifts are controlled from a single PLC, which is where the CPU is located. Up to 30 lifts could be in operation at the same time. Three processors would be needed in this case, but they would still be controlled from a single central unit, which would act as the master station. 
This is an improvement over similar, already existing devices. In addition to logistics support and supply of materials, itsme ELEKTRES advised Codesol to switch  to Siemens to improve the equipment and offered programming consultancy, especially among different PLCs. 
"In collaboration with itsme ELEKTRES, Codesol has achieved a safer, faster and more precise system for the construction of large-scale storage tanks"
With this solution, a machine controls all the lifts and their orientation in order to maintain the same position at all times. This allows the structure to be raised 2.1 meters, so that this space is cleared for working and for adding rings to the storage tank, until a final height of approximately 25 meters is attained. 
As Miguel puts it: "This system is safer, faster and more precise." 
 
Opportunities and new projects
There are not many companies around the world that offer a similar system, which gives Codesol a significant competitive advantage. In addition, they are considering adapting it to make it more versatile and useful for lighter applications (of about 10 tons), such as for beverage storage tanks.
"The new system offers a competitive advantage for Codesol and could be adapted for other uses"

This has been such a positive experience that Codesol is already working on another project in collaboration with itsme ELEKTRES: integrating 9 robots into a production line, so that multiple pieces can be welded per minute. "itsme ELEKTRES always has a quick response and gets involved to the fullest", explains Miguel, who also pointed to the technical support they have received.